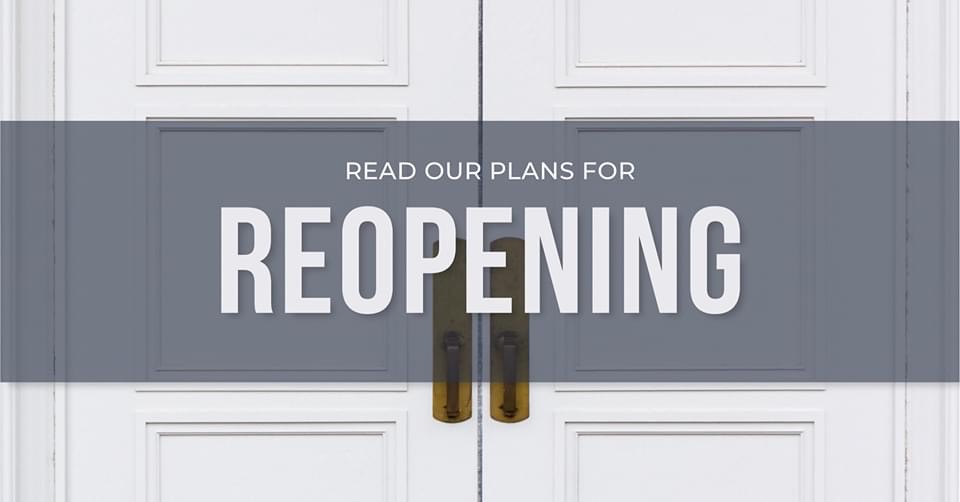 It's what we have all been waiting for! The time to reopen our doors has come. We are so excited to see everyone again. We ask that you please read our plans and guidelines for reopening. We are taking measures to ensure we do not need to close our building again and we hope you will help us achieve that goal with your cooperation.
We ask the following of those who will be joining us in the upcoming services:
1) Take your temperature before church. While we will not be taking temps at the door, we do ask that you take your temperature before you come to church.
2) If you do not feel well, please stay home and join us for our services online through Facebook or the service recordings through our website.
3) Please wear a mask to church While masks are requested for entering the building, once you are settled in your seat, it is your choice if you would like to keep your mask on throughout the service or if you would feel more comfortable removing it.
4) Please be sure to keep a safe distance of 6 feet between families/households.
5) Be mindful of what you touch. Please be diligent in touching as few surfaces as possible.
6) If you have a concern, please speak to one of the Pastors or Deacons for guidance.
Please find comfort in knowing that we will be doing our best to ensure your safety with the following:
1) The church will be cleaned and sanitized before and after each service.
2) To make our sanitizing efforts more effective, we are choosing to reopen with only one service at this time. This service will take place at 10:30 am.
3) Offering plates will not be passed during our service. Tithes and Offerings can be made through our website or given in the offering plate at the front of the sanctuary.
If you have any questions, please feel free to contact the Pastors, a deacon, the church office or send us a message on Facebook.
We look forward to seeing everyone!